HNF installs new laser direct writer
HNF's equipment pool has been extended to include an MLA 150 (MLA: maskless aligner), from Heidelberg Instruments. In so-called maskless lithography, micrometer-sized structures are written onto a photoresist-coated substrate using a laser. The desired structures only have to be drawn on a PC first. The very short cycle time from design creation to the finished exposed substrate makes the system ideal for prototype development.
The 375nm laser can resolve structures down to one micrometer and achieves a global alignment accuracy of less than 500 nm. The focus of the new system, however, is primarily on its very high writing speed. For example, a 100mm x 100mm area can be exposed in about 35 minutes and a full 4-inch wafer in under 25 minutes.
In addition, the system has a "Field-Alignment Addon" which improves the alignment accuracy on partial areas of the sample to less than 250nm. Also installed is a so-called "High Aspect Ratio Module" which can be optionally switched on. This improves the steepness of the resist edges for thick resists.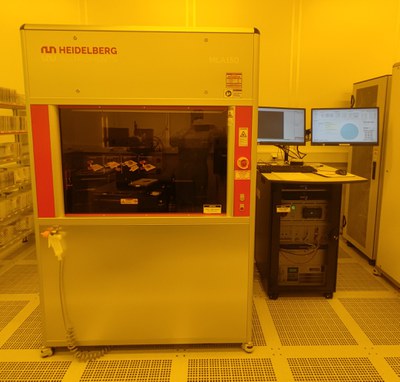 Last Modified: 18.11.2022