UMSICHT Science Award 2022 for Dr. Lea Eggemann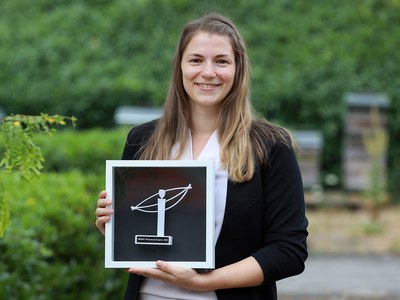 IEK-3 congratulates Dr. Lea Eggemann for the UMSICHT Science Award 2022, which she received for her doctoral thesis entitled "An environmental and economic assessment of a novel Power-to-Fuel system for biogas plants". In her work, she investigates the suitability of an innovative power-to-fuel system with a manure-based biogas plant for the sustainable production of methanol.
The work was supervised by Prof. Thomas Heckelei from the University of Bonn and by Prof. Ralf Peters from the Institute of Electrochemical Process Engineering (IEK-14), with support from Prof. Detlef Stolten and the Institute for Techno-Economic Systems Analysis (IEK-3). The topic was developed at the end of 2017 together with Dr. Eggemann's former PhD supervisor Dr. Peter Burauel, who unfortunately passed away in May 2020.
The award honors scientific work that promotes exchange and trust between research and the public and was presented on July 29 in Oberhausen. For further information, please refer to the announcement of the Fraunhofer Institute .
Last Modified: 05.08.2022