National and International Relations (UE-B)
Science and research at Forschungszentrum Jülich is international. Maintaining and expanding national and international relations and collaborations is therefore a crucial component of Jülich's strategy. UE-B advises and supports the Board of Directors in matters related to national and international partnerships. The key goal is to create an attractive research environment at Jülich for scientists at all career levels from Germany or anywhere else in the world.
In addition to supporting the Board of Directors, colleagues in this infrastructure division support the Jülich institutes in creating national and international relations across all the strategic topics at Forschungszentrum Jülich. They interface with the intermediary organizations involved in the international collaborations, are a point of contact for international partners and prospective partners, and maintain contacts in the field of research policy in partner countries that are important to Forschungszentrum Jülich.
Further Information
Internationalization@Jülich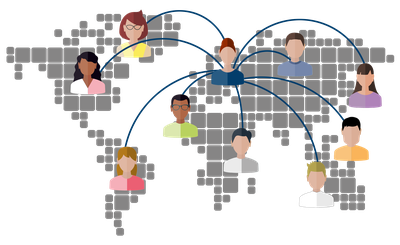 The internationalization strategy, "Internationalization@Jülich", describes Jülich's objectives of internationalization.
The internationalization measures can be divided into four fields of activity: "Internationalization@Home", "Best Minds", "Strategic Partnerships", and "Visibility and Science Diplomacy".
Two goals are central to the measures. Jülich collaborations with excellent partners evolve in a variety of ways, but they are always on an equal footing and benefit both parties. That is why complementary expertise will be pooled at the institutional and personal level within the various partnerships in order to create synergies in the interest of Filling Skill Gaps.
What's more, the internationalization strategy intends to increase the institutional visibility and reputation of Forschungszentrum Jülich in Europe and internationally, i.e. to establish targeted International Visibility.

Further Information
Top Issues
IMPACT and CHANGE – UE-Blog
The infrastructure divisions Innovation and Management (UE-I), Support for Young Researchers (UE-N), and National and International Relations (UE-B) within Corporate Development at Forschungszentrum Jülich have joined forces to blog under the heading of "Impact and Change".

The blog is a channel for information on the topics of innovation, diversity, and internationalization. It also offers prospective partners from other institutions, whether in Germany or anywhere else in the world, exciting insights into the joint research being conducted on the Jülich campus.

Impact and Change - Jülicher Blogportal
CURRENT FUNDING PROGRAMMES
In order to increase internationalization and to encourage the formation and strengthening of networks and collaborations, Forschungszentrum Jülich has participated in a variety of scholarship and funding programmes for many years.

The programmes span many countries including the USA, China, Canada, Israel, Jordan, and the Palestinian territories. The different funding programmes target candidates at all career stages. What's more, the focus is not just on recruiting outstanding scientists from abroad. Several programmes offer university students and researchers at Forschungszentrum Jülich the chance to gain experience overseas.

Further Information
Do you have any further questions?
Could you not find what you were looking for? Do you have other questions or do you need advice?
If so, please don't hesitate to get in touch.
Last Modified: 23.06.2022