International Relations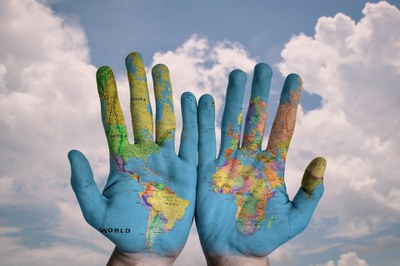 Science is international and gaining knowledge depends on communication across national borders. That is why Forschungszentrum Jülich attributes such great importance to having an international campus and activities aimed at increasing internationalization.
Forschungszentrum Jülich is involved in programmes, projects, and collaborations on every continent. The colleagues in National and International Relations (UE-B) support the Board of Directors in establishing and maintaining strategic partnerships and coordinate internationalization activities across institutes in line with the strategic topics of Forschungszentrum Jülich. They advise Jülich's institutes on their international collaborations and also interface with relevant intermediary organizations as well as partners and prospective partners.
Africa
Forschungszentrum Jülich works with a variety of partners on various projects in Africa. It collaborates closely with the West African Science Service Centre on Climate Change and Adapted Land Use (WASCAL) in Accra, Ghana, and the Southern African Science Service Centre for Climate Change and Adaptive Land Management (SASSCAL) in Windhoek, Namibia.
The countries of Africa hold enormous potential, particularly with regard to energy research. Therefore, projects such as the H2ATLAS-AFRICA project funded by the Federal Ministry of Education and Research aim to support the sustainable and economic development of the continent through a stable hydrogen economy. The goal here is for Africa to increase its importance in the international energy market as an exporter of green hydrogen, while at the same time driving forward its own regional development in economic and infrastructure terms.
The YESPV-NIGBEN project pursues a similar goal, aiming to use solar-powered greenhouses to supply the regions of Nigeria and Benin with both electricity and food. The project is funded by BMBF.
Dr. Solomon Nwabueze Agbo coordinates and monitors the activities of Forschungszentrum Jülich with the African partners. Alongside coordinating the H2ATLAS-AFRICA and YESPV-NIGBEN projects, he also helps to set up new projects and facilitates exchanges between countries. Together with Jeerawan Brendt and Daniela Loenißen, Dr. Agbo supports Jülich's institutes and scientists in implementing existing projects and establishing new partnerships in Africa.
Dr. Solomon Nwabueze Agbo
International relations officer:
Regional responsibility: Africa
Countries of responsibility: African states
Jeerawan Brendt
Project member of the "Atlas of Green Hydrogen Generation Potentials in Africa" project
Daniela Loenißen
Project member of the "Atlas of Green Hydrogen Generation Potentials in Africa" project (controller)
Asia-Pacific
Forschungszentrum Jülich maintains many scientific collaborations with partners in Asia and Oceania. This includes in particular the countries Australia, China, Japan, and South Korea.
There are several strategic partnerships in place with institutions in these countries, for example the cooperation with the University of Melbourne that forms part of the Jülich–University of Melbourne Postgraduate Academy (JUMPA). The JUMPA programme offers graduates the chance to carry out a joint doctoral project at the University of Melbourne and at Forschungszentrum Jülich.
JUMPA
Jülich has maintained partnerships for many years with Chinese scientists at the Shanghai Institute of Microsystem and Information Technology (SIMIT) and the International Joint Research Center for Atmospheric Research at Peking University. As part of "Jülich Day", Jülich also promotes exchanges with cooperation partners and alumni in different regions of China.
Based on the agreement signed on 20 August 2020 between the National Research Council of Science and Technology (NST) in South Korea and Forschungszentrum Jülich, joint research exchange programmes were launched in order to promote collaboration in science and technology between the two countries.
Dr. Hyunji Park is the contact responsible for countries in the Asia–Pacific region. She looks after existing partnerships, provides support in setting up new collaborations, and maintains contacts with existing partners. She also coordinates visits, workshops, and events.
Dr. Hyunji Park
International relations officer:
Regional responsibility: Asia–Pacific
Countries of responsibility: Australia, China, Japan, South Korea
Europe and North America
Most of the partnerships that Forschungszentrum Jülich maintains are with institutions within Europe. Besides joint projects, Jülich primarily networks through strategic partnerships and collaborations on its home continent.
For example, as part of "AIDAS – AI, Data Analytics and Scalable Simulations", Forschungszentrum Jülich is working together with the French Alternative Energies and Atomic Energy Commission (CEA) to establish a German–French virtual lab for simulation, quantum computing, data analysis, and AI, which is intended to be the leading exascale lab in the world. Several institutes at Jülich are involved in the project.
North America is also home to important international partners of Forschungszentrum Jülich. Many close partnerships, collaborations, and projects have already been brought to fruition with institutions in both the USA and Canada. For example, the Helmholtz International BigBrain Analytics & Learning Laboratory project (HIBALL) takes Jülich scientists' existing collaboration with McGill University in Canada to a new level. The goal of the project is to use and jointly develop the latest AI and high-performance computing (HPC) technologies to create highly detailed 3D models of the brain.
The activities within Europe and North America are coordinated and monitored by Anne Wiegmann. Besides setting up new collaborations and looking after strategic partnerships, Anne Wiegmann is the person to contact for delegation visits and visitor groups to Jülich as well as for organizing workshops and events with a regional focus.
Anne Wiegmann
International relations officer:
Regional responsibility: Europe, North America
Countries of responsibility: EU member states, UK, Switzerland, USA, Canada
Eastern Europe, Russia, Ukraine, Caucasus and Central Asia, Israel, Iran, and India
Collaborations between Forschungszentrum Jülich and partner institutions in Russia and countries in Eastern Europe are traditionally built on very close relations. Furthermore, Georgia is becoming an increasingly important partner, for example in the development of joint solutions for global health challenges. Forschungszentrum Jülich also maintains successful research cooperation in Israel and India.
Around 30 partnerships and collaborations currently exist, demonstrating as much diversity as the countries themselves. Particular attention is paid to Forschungszentrum Jülich's cooperation with Israel. Several exchange programmes and collaborations in research and innovation with a number of prestigious scientific institutions in the country demonstrate this intense, trusting partnership.
The Umbrella Cooperation has been in place since 1983 and is an association between Forschungszentrum Jülich, the Technion – Israel Institute of Technology, and RWTH Aachen University. The three partners involved in the cooperation promote scientific exchange between their countries and institutions with annual symposia, summer and winter schools, as well as joint research projects and training programmes.
Jülich maintains a strategic partnership with the Moscow Institute of Physics and Technology (MIPT). Several subdivisions at Jülich cooperate very successfully with one of the leading technical research universities in Russia. The focus of their activities is on research topics from biological information processing and biotechnology. The cooperation is frozen.
In order to bolster the long-standing scientific collaboration with prestigious research institutions, including the Indian Institutes of Technology, in 2021 Forschungszentrum Jülich became one of the founding members of the German Center for Research and Innovation (DWIH) in New Delhi, which promotes the German research landscape in India, expands existing collaborations, initiates new contacts, and drives forward the connections between the scientific communities in both countries. Besides Jülich, 17 other German scientific institutions, universities, and intermediary organizations are involved in the DWIH in New Delhi.
DWIH New Delhi
Eva Portius is the contact person for activities in Eastern Europe, Caucasus and Central Asia, Israel, Iran, and India. She offers support with analysis, consultation, and positioning related to relevant general developments, as well as the research landscape and policy. In addition to preparing for and overseeing delegation visits and other trips, she also advises on cooperation and funding options, supports the foreign trade division, and supports international research marketing in these regions. She is also well connected, with contacts in relevant ministries, scientific organizations, and external representatives.
Eva Portius
International relations officer:
Regional responsibility: Eastern Europe, Caucasus, and Central Asia (former CIS)
Countries of responsibility: Israel, India, Nepal, Pakistan, Sri Lanka, Turkey, and Iran
Last Modified: 06.03.2023