2002 guest student programme
The 2002 guest student programme ran from 5 August to 11 October 2002 with 9 students.
Group photo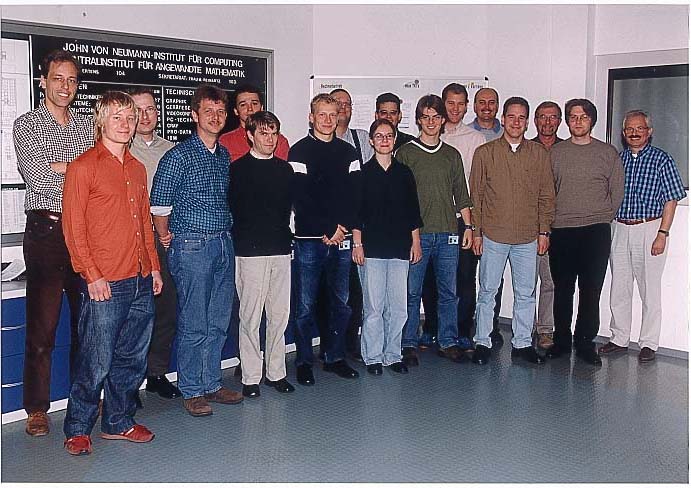 Persons on the photo, from left to right:
Godehard Sutmann (ZAM), Ekkehard Petzold (Leipzig), Jörg Striegnitz (ZAM), Thomas Müller (ZAM), Vladimir Stegailov (Moskau), Paul Gibbon (ZAM), Martin Fengler (Kaiserslautern), Bernd Körfgen (ZAM), Katharina Benkert (Chemnitz), Karsten Scholtyssik (ZAM), Christoph Spanke (Paderborn), Jens Rühmkorf (Köln), Bernd Mohr (ZAM), Jürgen Wieferink (Münster), Dieter Bartel (ZAM), Eduard Schreiner (Bochum), Rüdiger Esser (ZAM)
Proceedings
Esser, Rüdiger (Hrsg.) (2002):
Beiträge zum Wissenschaftlichen Rechnen - Ergebnisse des Gaststudentenprogramms 2002 des John von Neumann-Instituts für Computing (PDF, 3 MB),
Technical Report FZJ-ZAM-IB-2002-12
Abstracts
Implementation of a parallel direct solver for sparse matrices on ZAMpano
Katharina Benkert, Department of Mathematics, University of Chemnitz
Adviser: Bernd Körfgen, ZAM
The goal of this report is to investigate the efficiency of the parallel direct solver PSPASES on the SMP cluster ZAMpano with mixed MPI/SMP parallelism. The results obtained are compared with those on the massively parallel computer CRAY T3E. Further on, the library has been integrated in the software package FINEART (FINite element analysis using Adaptive Refinement Techniques) and the performance is compared to the existent sequential solver of FINEART.
Porting a parallel implementation of multi-dimensional quantum dynamics from SHMEM to MPI
Stefan Borowski, Fritz-Haber-Institut der Max-Planck-Gesellschaft
Adviser: Paul Gibbon, ZAM
Starting from a recently developed SHMEM parallelization of a multi-dimensional quantum dynamics code, an alternative parallel implementation utilizing MPI is proposed. The applied quantum dynamical method using a pseudospectral algorithm is introduced for a general 4D Hamiltonian. The proven data decomposition in all dimensions is only briefly reviewed, since it is adopted to the MPI implementation without changes. An efficient communication scheme avoiding strided data communication on multi-dimensional arrays is presented. Specific details on both the MPI and the SHMEM communication are discussed. In a speedup analysis, the new MPI and the original SHMEM implementation are compared with respect to their performance outcome. A perspective to further optimization and extension of the MPI implementation is given.
Ein neuer Ansatz zur effizienten Behandlung des Eigenwertproblems in SCF-Verfahren
Martin J. Fengler, Universität Kaiserslautern
Advisers: Inge Gutheil, Thomas Müller, ZAM
Theoretische Untersuchungen zur Dynamik molekularer Systeme sind ein heute nicht mehr wegzudenkender Bestandteil der Untersuchung komplexer Systeme in allen Bereichen der Chemie und helfen bei der Interpretation und Analyse experimenteller Untersuchungen. Weitverbreitet ist die Kopplung von (parametrisierten) Kraftfeldern (Molecular Mechanics) mit der klassischen Dynamik, d.h. der Lösung der Newton'schen Bewegungsgleichungen. Neuere Ansätze ersetzen die Kraftfeldmodelle durch die wesentlich genaueren DFT(Density Functional Theory)-Verfahren der ab-initio Quantenchemie.
Die Gewinnung dynamischer Information erfordert die Berechnung einer sehr großen Anzahl von Zeitschritten, so daß die DFT-Verfahren (hier das Quickstep-Modul von CP2K) äußerst effizient implementiert sein müssen. Hier wird in einem iterativen SCF (Self Consistent Field) Verfahren das DFT-Energiefunktional minimiert. Bislang war der zeitintensive Teil eines einzelnen SCF-Schrittes die Berechnung der Kohn-Sham-Matrix. Mit neuen DFT-Methoden, die eine Kombination aus ebenen Wellen- und Gaußfunktionen verwenden, konnte der dazu notwendig Rechenaufwand stark reduziert werden.
Ein Großteil der noch verbleibenden Rechenzeit wird vom Eigenwertlöser, der im SCF-Verfahren zum Einsatz kommt, verbraucht. Ziel dieser Arbeit ist es, durch die Berücksichtigung der besonderen Matrixstruktur, die im SCF zu Tage tritt, eine Methode darzulegen, die klassischen Eigenwertlösern, wie sie beispielsweise in LAPACK/SCALAPACK zum Einsatz kommen, hinsichtlich algorithmischem und zeitlichem Aufwand signifikant überlegen ist. Zusätzlich wurde dabei auf die besondere Speichereffizienz und massive Parallelisierbarkeit geachtet. Den Grundstein bildet das klassische Jacobi-Verfahren, das durch den hohen Einsatz an BLAS-1 Routinen und Modifikationen nach Pulay in ein Verfahren mündet, das bereits einen sequentiellen Leistungsgewinn von bis zu Faktor 20 ergibt. Insbesondere zeigen Testrechnungen, daß die Konvergenz des sehr empfindlichen SCF-Verfahrens nicht beeinträchtigt wird.
Parallelising a method for reconstructing evolutionary trees by the example of the software package 'Tree-Puzzle'
Ekkehard Petzold, University of Leipzig Germany
Adviser: Jörg Striegnitz, ZAM
Methods for finding evolutionary trees based on the maximum likelihood principle involve high computational effort and therefore are particularly time-consuming. Hence, a lot of research is done to adjust existing routines to be computed parallely. The software package 'Tree-Puzzle', which implements the aforementioned methods, has already been partly parallelised, acceleration of computation time however still suffers from those parts still computed sequentially. This project is designed to parallelise the most perturbing sequential part in the programme.
Design and implementation of a release framework for the KOJAK environment
Jens Rühmkorf, Lehrstuhl Prof. Speckenmeyer, University of Cologne
Adviser: Bernd Mohr, ZAM
The KOJAK environment has been ported to Cray-T3E-UNICOS/mk and IA32-GNU/Linux. To address characteristics specific to the used computing platforms, a platform abstraction layer was designed and implemented. A release framework has been developed for the KOJAK environment to ease porting to further platforms in the future. The implementation of the framework relies on the GNU build system. Finally, the release framework has been adapted to the currently existing ports: Cray-T3E-UNICOS/mk, IA32-GNU/Linux, and SR8000-HI-UX/MPP.
Interaktive Realzeit-Visualisierung des Verhaltens komplexer chemischer Systeme
Eduard Schreiner, Lehrstuhl für Theoretische Chemie, University of Bochum
Advisers: Dieter Bartel, Stefan Birmanns, ZAM
Die Bibliothek SVT (Scientific Visualization Toolkit) wurde um die Funktionalität erweitert, aus MD-Simulationen stammende Trajektorien in Form einer interaktiven Animation darzustellen. Die Implementierung ist erweiterbar gestaltet und beinhaltet Funktionen zur Manipulation des Ablaufs der Animation und der animierten Objekte. Zusätzlich wurde ein GUI zur Bedienung der neuen Features programmiert.
Eine Testumgebung für das parallele I/O-Paket GIO
Christoph Spanke, Universität Paderborn
Adviser: Karsten Scholtyssik, ZAM
GIO (Global Input/Output) ist eine Erweiterung der GlobalArray-Bibliothek. GA gestattet dem Benutzer, globale Felder in seinen Programmen zu benutzen. GIO erweitert GA in der Hinsicht auf Dateien und macht es möglich, auch Dateien global anzulegen und sie auf einem Parallelrechner so zu benutzen, als wären es lokale Dateien auf einem einzelnen Rechner. Dabei wurden die Kommunikationsfunktionen der Bibliothek ARMCI (Advanced Remote Memory Copy Interface) verwendet bzw. im Bedarfsfall den Anforderungen von GIO angepasst. Die im Rahmen des Projektes entwickelte Testumgebung mit den beschriebenen Tests hat die Funktionalität und Effizienz von GIO gezeigt und wird sowohl die Programmierung von Anwendungen als auch die von Erweiterungen zu dieser Bibliothek vereinfachen und beschleunigen.
Optimization of neighbour list techniques and analysis of effects of round-off errors in molecular dynamics calculations
V. V. Stegailov, Moscow Institute of Physics and Technology
Adviser: Godehard Sutmann, JSC
The first part of this report is devoted to the methods of acceleration of the force evaluation routine in molecular dynamics (MD) calculations. Different approaches are considered: simple brute force algorithm, Verlet list and linked list methods, combination of Verlet and linked lists. Several recipes are given in order to reach the best perfomance. Consequences of round-off errors, integration scheme precision and Lyapunov instability on results of MD calculation are discussed in the second part of the report.
Implementation of a parallel Fast Multipole Method
Jürgen Wieferink, University of Münster
Adviser: Holger Dachsel, JSC
The Fast Multipole Method (FMM) is an effective way for calculating Coulomb energies. To make calculations even faster this method is ported to parallel computers. The Global Arrays'' package is used to accomplish this. The work and data distribution used is meant to run on parallel computers with about eight processors. On machines of this size the scaling is almost ideal, and even for 16 or 32 processors there is a considerable speed up.
Last Modified: 08.02.2022