First Winning Place in Falling Walls Lab (Baden-Württemberg) for Breaking the Wall of Wrong Malaria Diagnosis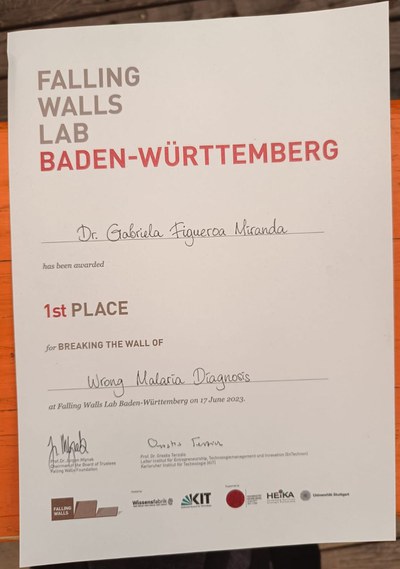 June 20, 2023. Our colleague Dr. Gabriela Figueroa Miranda was awarded last Saturday 17th June 2023 with the first winning place after she pitched in three minutes her project idea "Breaking the Wall of Wrong Malaria Diagnosis". The pitch described the concept of the biosensor technology that she and her team is developing for the accurate detection of malaria among other infectious and chronic diseases.
The event took place at the Karlsruhe Institute of Technology (KIT) and the jury was composed of Professors of KIT, Heidelberg University, University of Stuttgart, and from industry Bosch Healthcare. Gabriela competed against seven other project ideas, among them hers was the one that convinced the jury for awarding her with the first winning place due to the performance of her pitch, the answer to the asked questions, and the maturity of her project.
What is the next step for Gabriela as the winner of the Falling Walls Lab Baden-Württemberg?
She will travel to Berlin on the 7th of November, where she will compete to become the Breakthrough Winner of the Year in the Emerging Talents category of Falling Walls. She will pitch once more her project idea against other competitors from all over the world.
What is Falling Walls? The Falling Walls Science Summit is a leading international and interdisciplinary forum. Some of the most important researchers and thinkers of our time gather at Falling Walls to discuss breakthroughs with global leaders in science, politics, business, and the media, answering the core question of the Falling Walls Science Summit: "Which are the next walls to fall in science and society?".
Congratulations on your Prize, Gabriela!
20.06.2023
Last Modified: 26.06.2023