Development and application of ultra-high resolution relaxation time and water content mapping
Quantitative MRI (qMRI) imaging has increased in popularity due to its ability to provide very specific and reproducible information. The use of qMRI for the in vivo analysis of water content in the brain is of particular interest to clinicians, as even slight changes in brain water content can be indicative of pathology.
Tissue water content - or MR-visible proton density (PD) - as obtained using qMRI, is a very precise indicator of tissue hydration state and is, therefore, useful for the study of many cerebral diseases, including, cerebral oedema, brain tumour and multiple sclerosis.
However, the measurement of water content using qMRI is not without its challenges, which include image degradation as a result of partial volume effects, caused by the limited resolution of the acquired MR images, and the rather long examination time required for a quantitative water content.
Researchers at INM-4 aim to improve the efficiency of qMRI protocols by addressing the challenges associated with qMRI. In order to achieve this, current research focuses on:
qMRI at ultra-high field strength
qMRI with ultra-short TR sequences
Motion corrected MRI acquisition
By further improving sequences, both at standard and ultra-high field strengths, qMRI will become an increasingly useful clinical tool to inform diagnosis and treatment planning.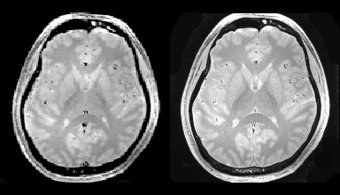 Last Modified: 07.03.2023