We want our research to have an impact. That is why we aim to make our research results useful for society as a whole, shaping our own work based on social impetus. We attach great importance to close cooperation with outside research partners and partners from industry so that our findings can be applied to improve people's lives in the long term.
MEDICAL IMAGING PHYSICS (INM-4)
The research and development activities of our research groups in the Medical Imaging Physics division (INM-4) of the Institute of Neuroscience and Medicine focus on the development, experimental validation and the clinical implementation of novel brain imaging methods.
+++ NEWS +++ NEWS +++ NEWS +++ NEWS +++ NEWS +++ NEWS +++ NEWS +++ NEWS +++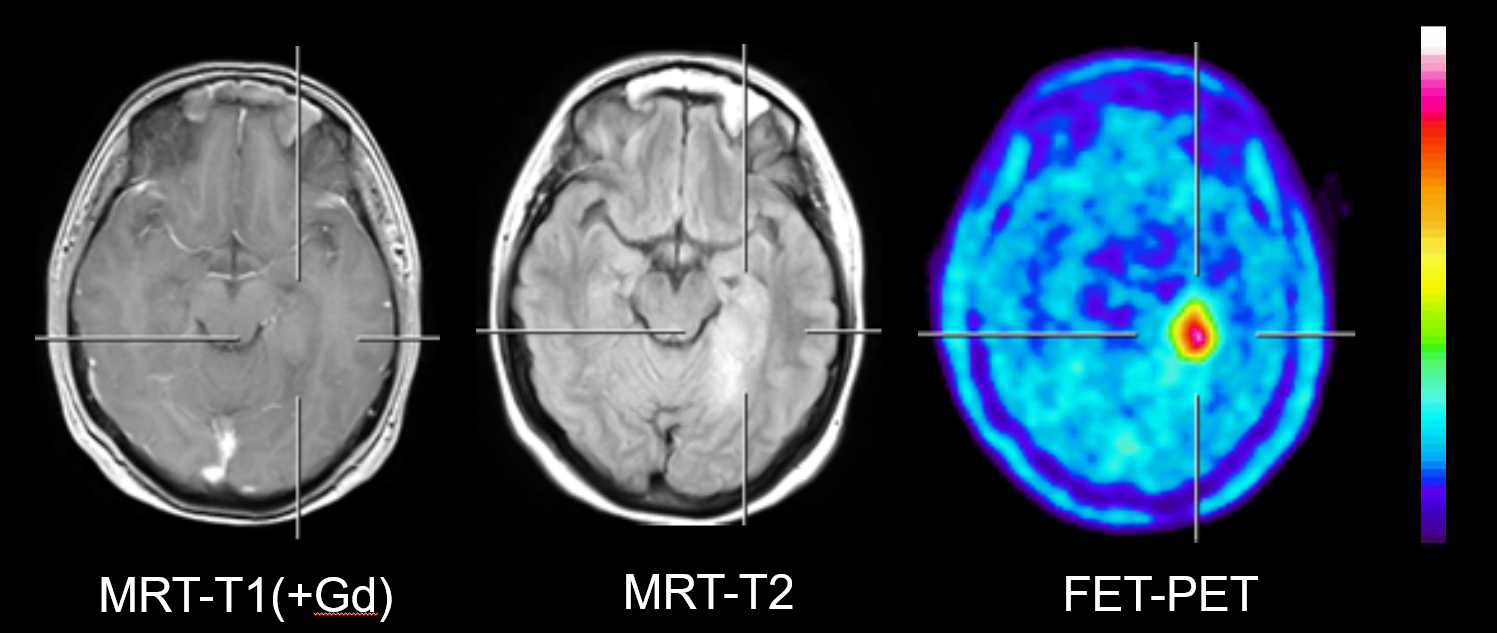 Jülich, 4th May 2022
The Federal Joint Committee (G-BA) has approved the radiopharmaceutical [18F]-fluoroethyltyrosine (FET) for the diagnosis of brain tumours in the context of outpatient specialist care. This is the first time that an examination procedure developed at the Forschungszentrum Jülich has been approved for medical use in Germany and reimbursed by the health insurance funds.
9th May 2022
The science journalist Mai Thi Nguyen-Kim visited the Institute of Neuroscience and Medicine (INM) as part of a new series on the human brain for the ZDF TV programme "Terra X".
During her one-day visit, the doctor of chemistry and well-known YouTuber was measured in the 7 Tesla MRI scanner in INM-4. Together with Dr. Jörg Felder (INM-4) and Simon Eickhoff (INM-7), she was given a unique insight into her own brain on site. A concrete evaluation of the MRI scan will follow in the coming days. 
Nguyen-Kim was accompanied by a film crew at both stops on her tour. The results of the filming are expected to be broadcast in autumn/winter 2022 on the ZDF TV programme "Terra X" (shown every Sunday at 19:30).
We are pleased to announce that an illustration designed by INM-4, depicting the team's groundbreaking research in laminar fMRI of the brain, has been selected as the cover image for the August issue of Human Brain Mapping from among many cover submissions.
RECENT PUBLICATIONS
21st July 2022 - Using super-resolution reconstruction for whole-brain water content mapping in three orthogonal orientations
3rd July 2022 - A new method for calculating structural radiation protection in nuclear medical imaging
9th June 2022 - Review of research on the negative effects of contact sports on cognition and brain integrity
3rd June 2022 - Development of a new method to measure oxygen extraction fraction
4th May 2022 - Evaluating the performance of pre-processing methods for laminar applications
6th April 2022 - New ultra-high resolution acquisition protocol to map whole-cerebrum resting-state networks
22nd February 2022 - The development of the first quantitative in vivo water content brain atlas at 3T