SAXS
GANESHA
SAXS and WAXS Laboratory Beamline equipped with a Ga-Metal-jet X-ray source and EIGER 4M single photon counting detector. The main focus of the instrument is to be very versatile and flexible in terms of sample environments and covered q-ranges. Having a Metal-jet source with its high intensity and brilliance enables us to measure all samples in air. The evacuated tube holding the movable detector can be shifted along the beam path to vary the available sample area from a few millimeters up to ∼1m.
| | |
| --- | --- |
| SAXS/WAXS with EIGER 4M | 0.03 – 22nm-1 |
| WAXS with PILATUS100K (off-center) | ∼10-70nm-1 |
Standard sample stages:
Capillary holder for up to ten 2mm capillaries for liquid samples from -5 to 80°C (fully integrated)
Linkam HT600 single capillary 1-1.5mm or flatcell with mica window -10 to 400°C (fully integrated)
Linkam TST350 Tensile stage with force measurement -10 to 350°C also with mica windows
Linkam CSS450 shear device with kapton or scotchtape windows
GISAXS with sample tilt on extra stage with 5 motors (x,y,tilt-x,tilt-y,rotation-z)
Various scaffolds for solid samples to measure with minimal background
Special setups:
5 motor stage with needle tip for rotating crystal-XRD for colloidal crystals
Magnetic sample holders for capillaries with up to ∼0.7T
Flow capillary with peristaltic pump
Microfluidic chips with fitted thin capillaries (0.5 to 0.1mm) and syringe pumps
Nanoparticle kinetics in specially made X-Ray transparent reaction vessel with up to 380°C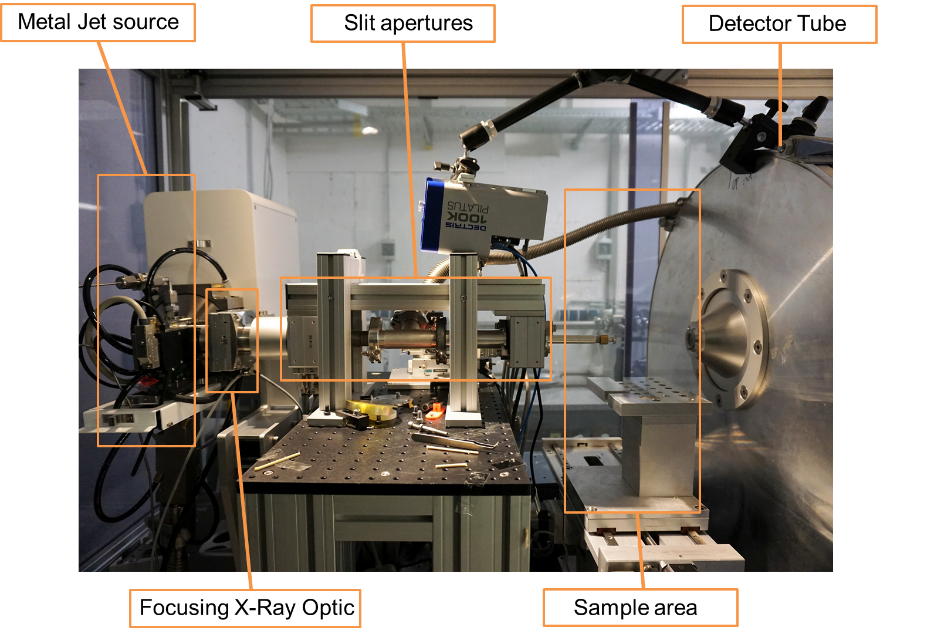 SAXSPACE
| | |
| --- | --- |
| SAXSPACE | Kratky Camera (Anton Paar) |
| SAXS | nm-1 bis 6 nm-10.1 |
| WAXS | 0,5 nm-1 bis 18 nm-1 |
| Temperature | -10°C -300°C, auto sampler |
| CCD camera detector |   |
| Photon flux at the sample 1.3x107 (point-), 1x109 (line collimation) |   |
Typical use case: protein solutions, polymer solutions, SEC-SAXS
Further information: Link pdf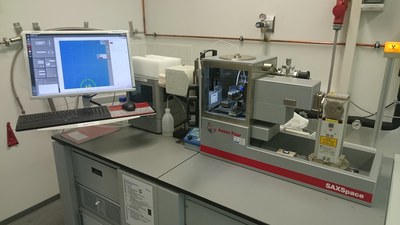 NANOSTAR U: (Bruker AXS)
The applications range from polymers to biology or liquids and are limited to the scattering vector range given by the wavelength of the xray. Powerful combinations arise if both neutron and xray scattering are applied to the same system, exploiting the full contrast program. The scattered beam contains 3dimensional information on the spatial structure.
| | |
| --- | --- |
| Rotating Anode | Cu Ka |
| Cross-coupled Göbel Mirrors |   |
| Detector distances | 230 < D < 1060 mm |
| Scattering vector q | 0.006 < q < 3 A-1 |
| Detector | 2d VANTEC 2048x2048 resolution |
| Temperature control | -30°C < T < +300°C |
| In-situ tensile testing | Up to 400% strain, 0.001 < v < 1mm/s |
Contact:
Letzte Änderung: 24.05.2022