Deutsche Neutronenstreutagung 2024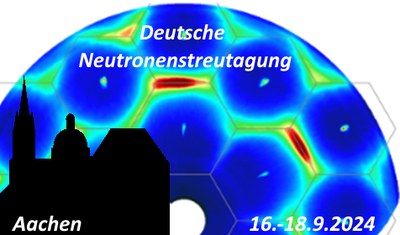 Neutron science of today and tomorrow – neutron sources and their impact on material research
The German Conference on Neutron Scattering 2024 will take place in Aachen, Germany, on 16th - 18th September 2024 (lunch-to-lunch) and offers a forum for the presentation and fruitful discussion of recent results and advances in the field of neutron scattering and material research using neutrons.
The DN2024 is organized on behalf of the German Committee for Research with Neutrons (KFN) by the Jülich Centre for Neutron Science (JCNS), Forschungszentrum Jülich.
Covering the breadth of neutron science from magnetism, via soft matter to proteins, microsymposia will further focus on the current topics of "energy materials" and "materials characterization", as well as "high brilliance compact accelerator neutron sources". Recent instrumental developments are additionally covered.
At the end of the conference, a guided tour to the test stand of the High Brilliance neutron Source (HBS) at Forschungszentrum Jülich will be offered alongside with dedicated talks at JCNS on the technological advances and perspectives of a German HBS.
Details at a glance
Venue: Hörsaalzentrum PPS, RWTH Aachen, Professor-Pirlet-Str. 12, 52072 Aachen
Organizers: Jülich Centre for Neutron Science, the German Committee for Research with Neutrons (KFN) and RWTH Aachen University
Contact email address: DN2024@fz-juelich.de
Local Organizing Committee:
Sabrina Disch
Richard Dronskowski
Stephan Förster
Thomas Keller
Holger Kohlmann
Susan Schorr
Michael Schulz
Mirijam Zobel
Conference Start: 16.09.2024 at 12:30
Conference End: 18.09.2024 at 12:30
Tour of the JULIC Neutron Platform (HBS Test stand): 18.09.2024 at 13:30-16:30 at Forschungszentrum Jülich
Registration will open on 1st March 2024.
Letzte Änderung: 09.11.2023