FieldWeasel
Automated driving, electric powered bridge for accurate positioning of field phenotyping sensors.
FieldWeasel is an autonomous positioning system for open fields using GPS antennas upgraded with RTK to position the sensor platform at less than 2cm. The FieldWeasel has two driving units, a sensor platform, and a 13 m-long bridge with a movable sensor platform. Each driving unit has 2 wheels that can turn 360 degrees providing ultimate maneuverability in the field.
Lithium batteries of 23 kWh provide 6-8 hours of operation in the field and can be charged with a 16A CEE-type power socket. Operation includes next to manual or autonomous driving, hydraulic control of the height of the bridge (up to 3 m from the soil), movement of the sensor platform along the bridge, fine tuning of sensor platform height from the canopy (up to 1m), leveling, orientation of the sensor platform in relation to the bridge and providing power to the sensors mounted.
The dimensions of the FieldWeasel in length and width (including the driving unit) are 14 m x 3 m allowing transport on a truck without specific permits. The width of each of the driving units, in typical driving direction, is 1 m. The sensor platform is 1.5 m x 1.5 m grooved plate allowing different sensors with a maximal mounting weight of 50kg. The platform has power and ethernet connection for the sensors. The range covered by the sensor platform is 12 m between the driving units. The autonomous driving can be set via a GUI and is independent on which side of the bridge the sensor platform is placed (typical on the sun side to avoid shading of measurement area by the bridge).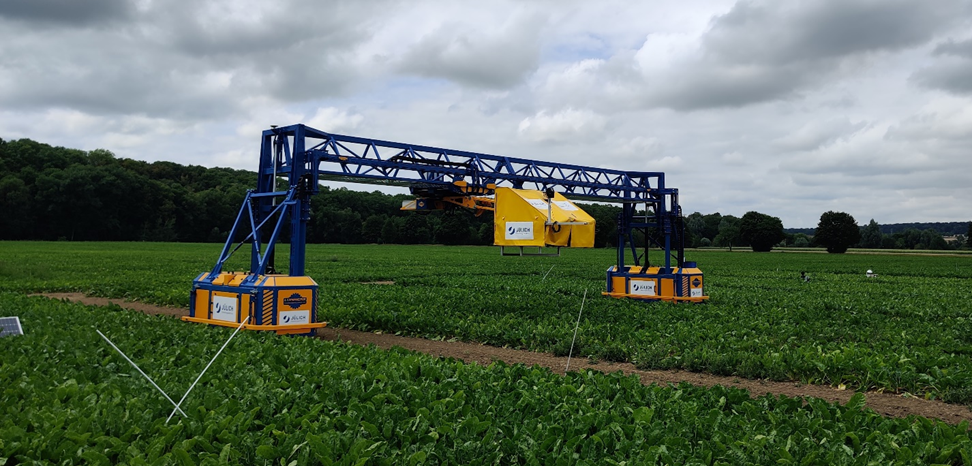 Contact
Institute of Bio- and Geosciences (IBG)
Plant Sciences (IBG-2)
Institute of Bio- and Geosciences (IBG)
Plant Sciences (IBG-2)
Last Modified: 24.02.2023