JSC Hosts Award Ceremony for PRACE Summer of HPC 2018
The Summer of HPC (SoHPC) programme, now in its sixth year, allows 20–25 university students from all scientific disciplines to spend eight weeks of study hosted by a PRACE partner organization. In addition to providing students with the opportunity to work on research projects in a multidisciplinary and international environment, the aim of the SoHPC programme is to promote and disseminate a scientific culture among the upcoming generation of researchers, helping the students participating in the project to become the computational scientists of tomorrow. Furthermore, the programme encourages the students to share their experiences in blog posts and video presentations, enabling them to become supercomputing ambassadors at their respective institutions.
The programme encompasses a week of HPC training at one of the PRACE partner organizations at the start of the programme as well as an award ceremony after the end of the programme. The 2018 PRACE SoHPC Award Ceremony was held at JSC on 23 October. Two out of 23 outstanding students were awarded prizes based on their performance and outreach during the programme. This year's winners, Conor O'Mara (Trinity College Dublin) and Sukhminder Singh (Friedrich-Alexander-University Erlangen), who spoke about their experiences participating in the SoHPC programme at the ceremony, each received a € 1500 prize to attend an HPC conference of their choice along with a trophy.
More information on how to join the 2019 programme can be found on the Summer of HPC's website: https://summerofhpc.prace-ri.eu
Contact: Dr. Ivo Kabadshow, i.kabadshow@fz-juelich.de
from JSC News No. 262, 29 November 2018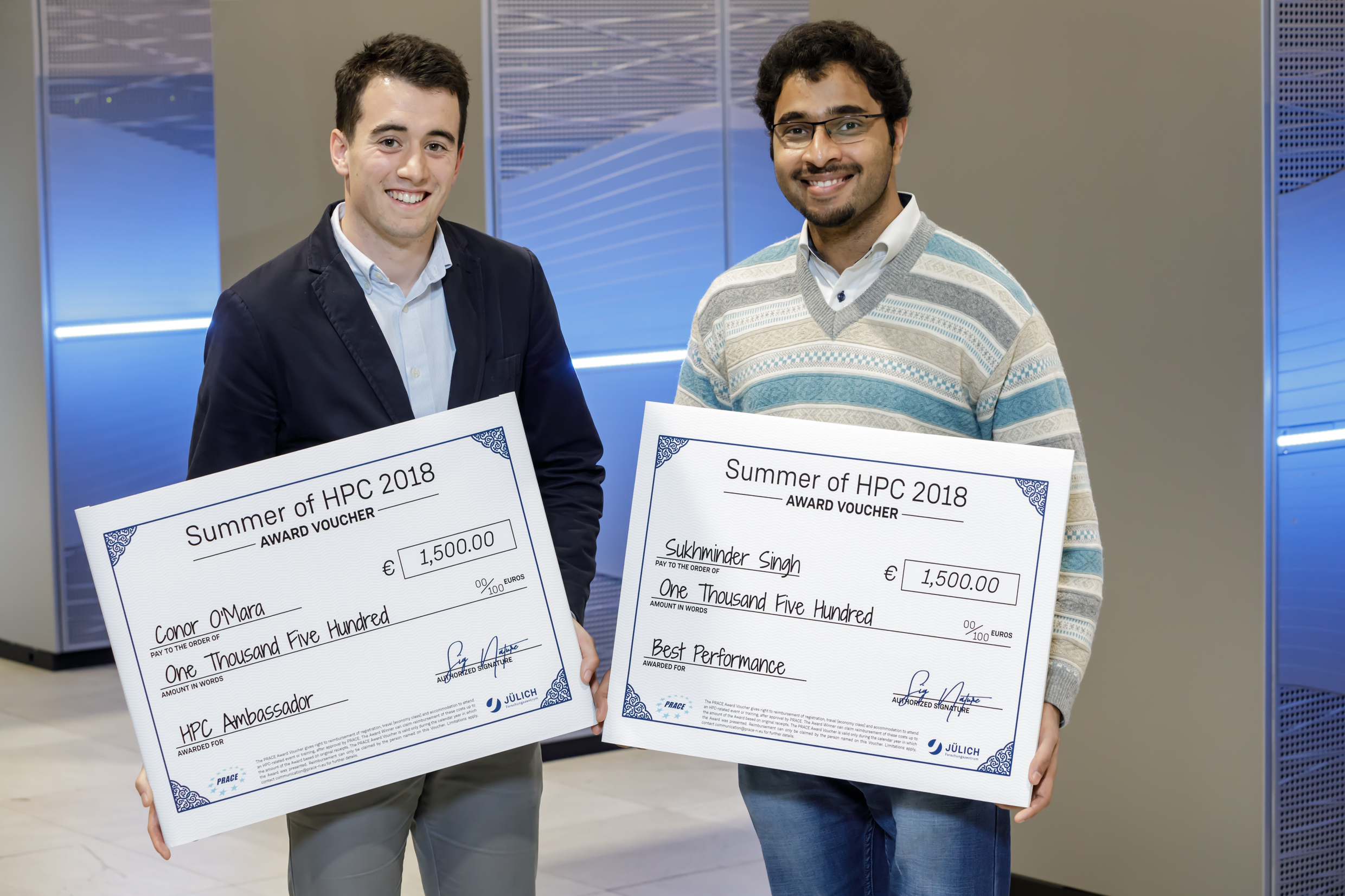 Last Modified: 05.07.2022