JUSUF – New Multi-purpose Computing Platform for Neuroscientists
In May 2020, the new JUSUF (Jülich Support for Fenix) system started operation in JSC's data centre. JUSUF is a novel multi-purpose computing platform providing HPC as well as cloud resources in two separate sub-systems whose sizes are reconfigurable according to demand.
JUSUF is part of the Fenix e-infrastructure (https://fenix-ri.eu), which combines infrastructure components at the major European supercomputing centres of BSC in Spain, CEA in France, JSC in Germany, CSCS in Switzerland, and CINECA in Italy. The Fenix infrastructure is built up as part of the EU-funded ICEI project, through which the procurement and operation of JUSUF is also co-funded.
Resources on JUSUF are made available to European neuroscientists via a dedicated share of the system for the Human Brain Project (HBP) and the broader European research community via the PRACE-ICEI calls for proposals.
JUSUF, which is delivered to Jülich by Atos, consists of 205 nodes, each equipped with two of the latest-generation of AMD EPYC "Rome" 64-core processors, 256 GB of main memory, and a local 1 TB NVMe device. 61 nodes are equipped with an additional NVidia V100-16G GPU. The nodes are interconnected with a 100 Gb/s HDR InfiniBand interconnect in a full fat tree topology. The cluster sub-system of JUSUF, whose system software configuration is compatible with JURECA and JUWELS, accesses the central file systems from the JUST storage cluster. JUSUF is also connected to a share of the new high-performance JUST NVM storage layer, which will be operational soon. The cloud sub-system is based on Red Hat's OpenStack Platform and enables virtual machine hosting in the form of an Infrastructure-as-a-Service offering.
More information about the system can be found at https://fz-juelich.de/ias/jsc/jusuf.
Contact: Pavel Mezentsev, p.mezentsev@fz-juelich.de; Benedikt von St. Vieth, b.von.st.vieth@fz-juelich.de
from JSC News No. 272, 18 May 2020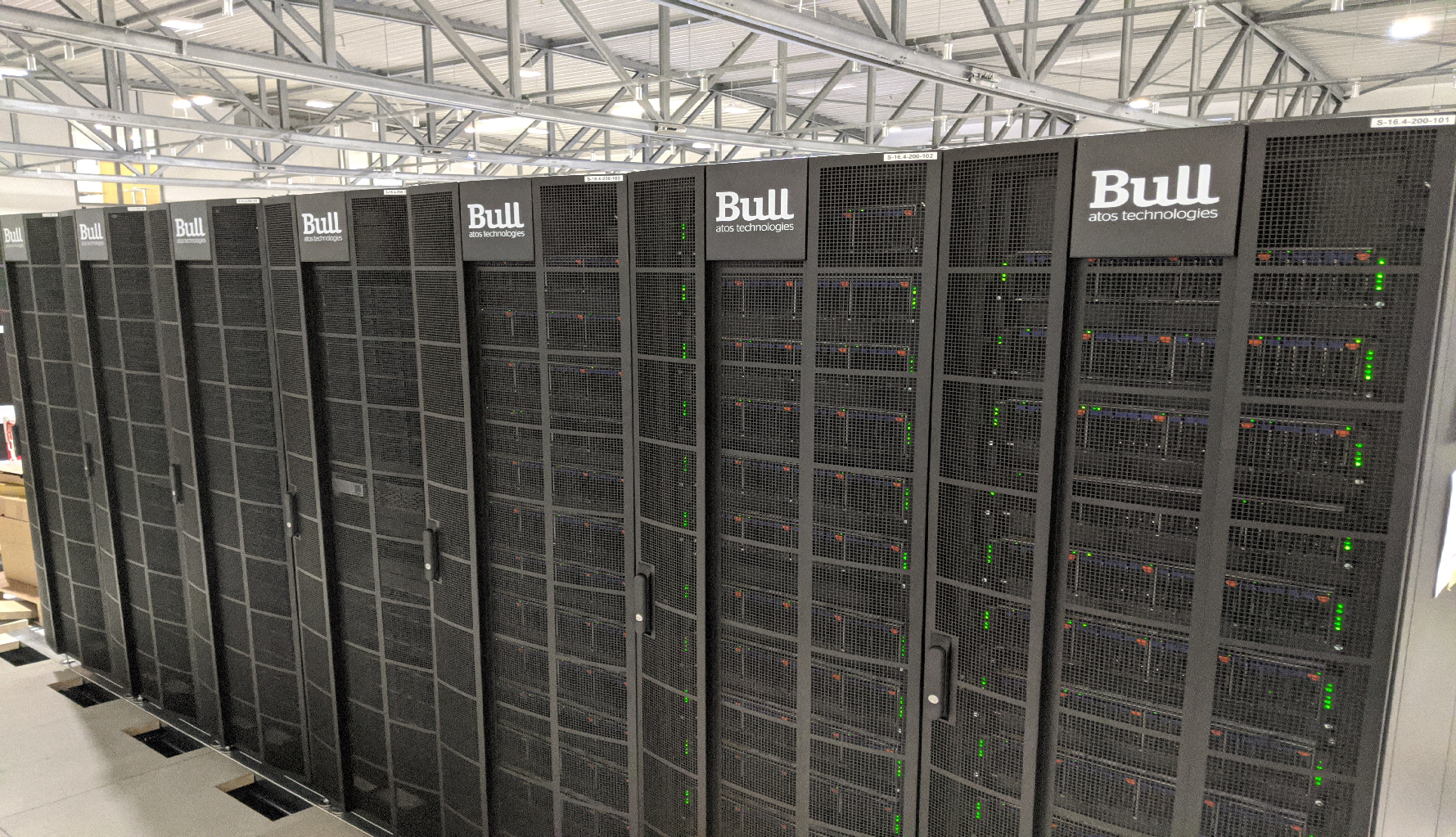 Last Modified: 05.07.2022