Creating Art with a Jülich Supercomputer
Jülich/Ghent, 16 May 2014 – The results of an unlikely convergence of art and supercomputing can be viewed in Ghent, Belgium, from tomorrow onwards. The Museum of Contemporary Art (S.M.A.K.) will showcase an exhibition by internationally acclaimed artist Thomas Ruff entitled "Lichten", consisting of five series of photographs concerned with the theme of light. One of the series contains a selection of photograms created in collaboration with Forschungszentrum Jülich. The exhibition will also be on display at the Kunsthalle Düsseldorf art gallery in September.
In their original form, photograms are black-and-white photographic images created without a camera in a darkroom. To do so, objects are arranged on light-sensitive paper and exposed to light. Artists such as Man Ray or Lázló Moholy-Nagy experimented with this technique as early as the 1920s. It was Thomas Ruff who introduced photograms to the digital age. The artist uses a computer program to work with objects, light, and photographic paper. "This virtual darkroom has three advantages," he says. "The images aren't restricted to the size of the photographic paper, I can modify objects and light sources quickly and easily on the computer, and – unlike in the analogue world – I can create colour photograms."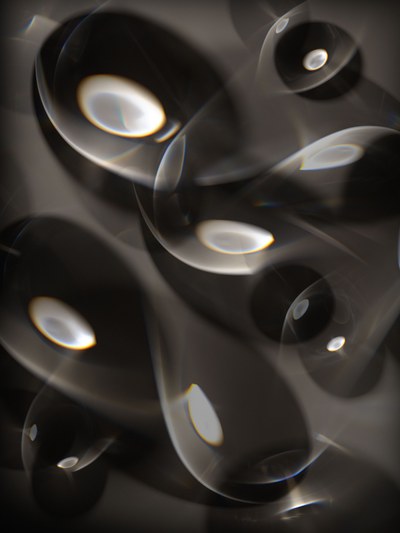 However, Ruff's novel and abstract photograms involve enormous amounts of data. On average, the artist uses three virtual light sources per photogram, with the result that a single image 2.20 × 1.64 metres in size produces a data volume of at least 18 terabytes. When Ruff applied to the Jülich Supercomputing Centre (JSC) for computing time, they recognized the challenge and eagerly took it up. "From our point of view, the high demands for data storage, data rates, and local processing power provided an ideal opportunity to test important characteristics for the design of JUROPA's successor in a controlled environment," says JSC head Prof. Thomas Lippert about the collaboration's scientific background.
Before the images – 20 in total – could be computed at Jülich with a resolution of up to 23,500 × 17,600 pixels, Wolfgang Frings from JSC adapted the software used by Ruff so it could run on JUROPA. This computer consists of 2,208 nodes; each node has two processors, with four processor cores each, and 24 GB of storage. For one image, 1,000 of JUROPA's nodes performed calculations for up to 15 hours; Ruff's computer would have taken over a year. Frings and his colleagues also developed a new tool to better monitor the computer's capacity utilization. The tool uses colour coding to indicate temperature and shows the capacity utilization of the main memory and nodes, and has now been made available to all users.
"The same principle applies to photograms as to any other scientific issue – supercomputing makes it possible to advance into orders of magnitude that would otherwise be impossible," says Frings. For his part, Thomas Lippert is confident that the collaboration will encourage people other than JSC's usual clientele to take an interest in high-performance computing. Thomas Ruff, finally, is thrilled with the result of the collaboration. "The difference alone in the contrasts and fine structures compared to the images computed in the studio is outstanding, and the resolution is out of this world."
The series of photograms, entitled "Phg", will be on display at S.M.A.K. until 24 August.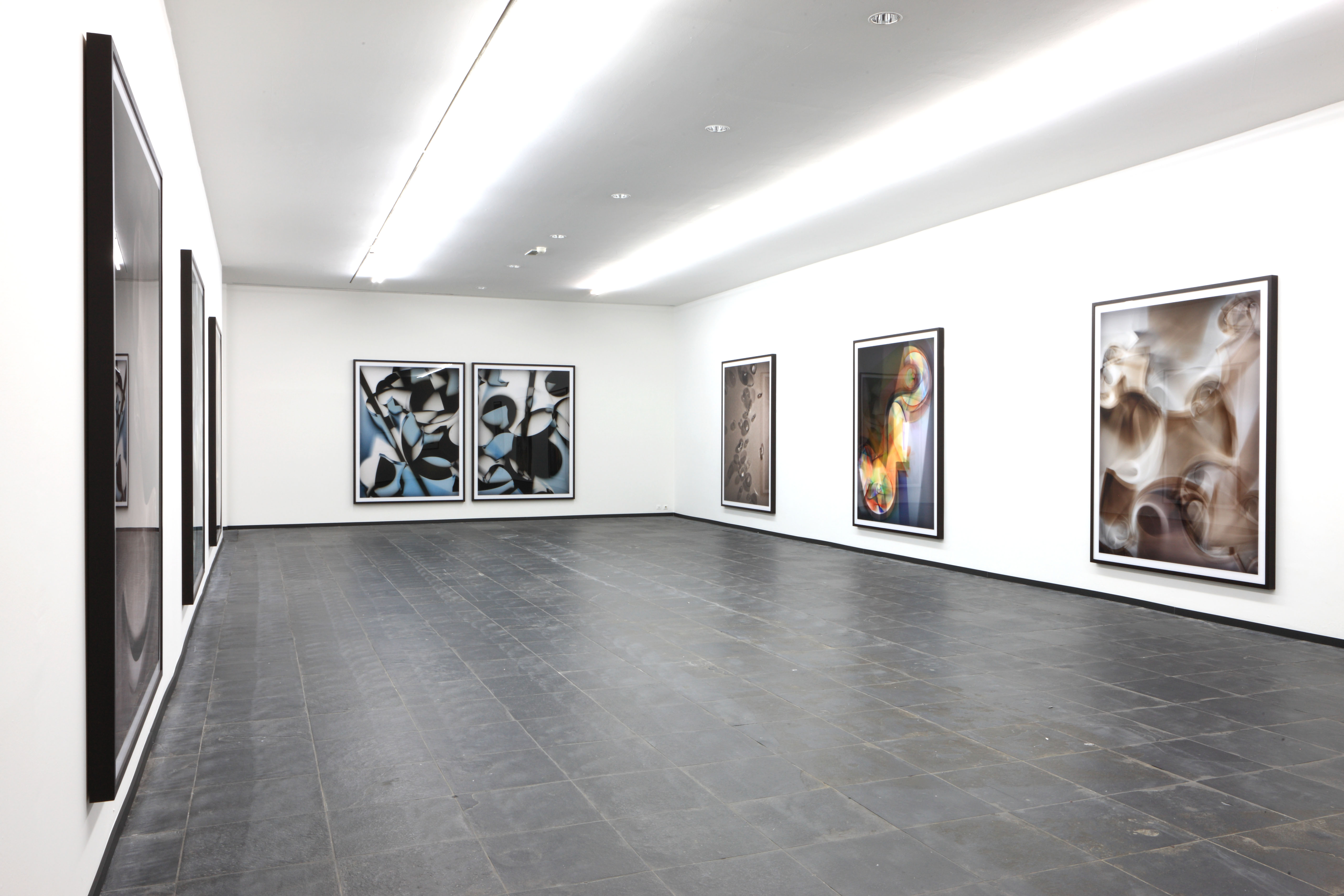 More Information
Jülich Supercomputing Centre (JSC)
Museum of Contemporary Art, Ghent (S.M.A.K.)
Press contact:
Erhard Zeiss, press officer
Tel: +49 2461 61-1841
e.zeiss@fz-juelich.de
Last Modified: 22.05.2022