Guest house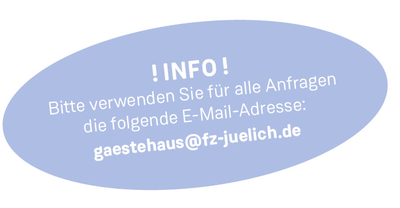 The guesthouse is located in Jülich (city centre), Münchener Straße 4 in the immediate vicinity of the Citadel with a direct connection to the Rurtalbahn. It has 61 accommodation units, which are offered in five different categories. Since each type of flat or room has different sizes, the rent varies depending on the size and period of the lease.
The reception desk is located in the foyer of the guesthouse and is staffed from Monday to Friday between 8.00 a.m. and 12.00 p.m. and is happy to assist guests with any questions they may have.
Furthermore, the guesthouse has a lift, a seminar room as well as a common room and a lounge. The garden is equipped with seating and a children's playground. Here you will also find a basketball court and an outdoor chess game, which is available to the guests of the guest house. Should a parking space be required, these are available free of charge. Garage parking spaces are also available, but for a fee. A bicycle storage room is available for guests to store their bicycles.
Please note that the guest house is only available to employees, visiting scientists or students of Forschungszentrum Jülich. If you are interested in renting a flat, please contact your institute or organisational unit at Forschungszentrum Jülich. A reservation can only be made through this.
Administration Guest House
Mrs K. Esch, Phone: +49 2461 680165
Mrs M. Libreja, Mobil: 0170 9230316
E-mail: gaestehaus@fz-juelich.de
Guest House Management
N.N.
Available accommodation units in the guest house
Connection and images
Last Modified: 12.07.2023