Preparing a Thesis
Within the framework of the Bachelor's or Master's thesis, students deal with a given question and work on it independently and with the help of scientific methods. Good (scientific) supervision is ensured.
General conditions of employment
Employment is as a student assistant for the purpose of preparing or writing a Bachelor's or Master's dissertation or in the context of a state examination. The amount of remuneration depends on the degree achieved to date and the weekly working hours. The duration of the contract depends on the requirements of the university and may not exceed 12 months.
Information on applying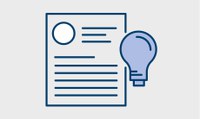 Dissertations can be written in all areas of Forschungszentrum Jülich: in the scientific institutes, in the technical area and in the administrative infrastructure. If you are interested in writing your dissertation with us, we look forward to receiving your application. You can apply for advertised positions or contact suitable institutes and organizational units on your own initiative.
Your application should include the following documents:
Cover letter
Curriculum vitae (if applicable, mention voluntary activities or association affiliations)
School-leaving certificate
Current transcript of grades for the course of study
Bachelor's degree certificate, if applicable
Job or internship references, if applicable 
A certificate of enrolment if you are applying as a working student
Further information and tips for your application can be found here.
From experience, finding a suitable position for a dissertation takes some time. Therefore, and due to the high demand, we ask for an early application, at least three, preferably six months before the desired start date.
Last Modified: 22.11.2022