"Green" hydrogen made in Africa
Jülich, 9 June 2020 – The project "H2Atlas-Africa" focuses on the idea of making Africa a successful producer and exporter of sustainably generated hydrogen for a climate-neutral energy supply of the future. The key goal is to determine sites in the west and south of the continent that are particularly suitable for producing hydrogen using renewable energy. Parliamentary State Secretary Thomas Rachel will officially launch the project tomorrow (Wednesday, 10 June), which has received around € 5.8 million in funding from the Federal Ministry of Education and Research. The project coordinator is Dr. Solomon Nwabueze Agbo of Forschungszentrum Jülich.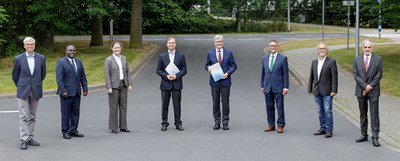 Video statements on the launch of the "H2Atlas-Africa" project
"Africa is a continent with a rapidly growing population and increasing energy requirements. We can only master the challenges of climate change and a sustainable, climate-neutral, and secure energy supply in Africa and Europe together. Countries in Western and Southern Africa offer enormous potential for renewable energy. They can be used to produce the sustainable hydrogen we need for the energy transition," explained State Secretary for Research Thomas Rachel MdB. The important role hydrogen will play in the energy system of the future is demonstrated by the National Hydrogen Strategy, which the Federal Government will launch in Cabinet on Wednesday. Hydrogen is to replace fossil fuels on a large scale, serve as a storage medium for renewable energies, facilitate mobility, and link the various energy sectors with each other – all efficiently and cost-effectively.
"At Forschungszentrum Jülich, we set the course for research into green hydrogen as the basis of a sustainable energy economy several years ago," explains Wolfgang Marquardt, Chairman of the Board of Directors of Forschungszentrum Jülich. "Jülich hydrogen research ranges from the fundamentals to technologies for the production, storage, and use of hydrogen in new fields of application in mobility, the energy industry, and industrial production. The focus is on how green hydrogen can be produced in large quantities, how it can be transported over long distances and in large quantities using existing infrastructures, and how it can be processed into synthetic fuels and industrial chemicals using power-to-x technologies."
The most important partners on the African side are the two centres for climate research in Ghana (West African Service Centre on Climate Change and Adapted Land Use, WASCAL) and in Namibia (Southern Africa Science Centre for Climate Change and Adaptive Land Management, SASSCAL). Together with local researchers, engineers, and technicians, potential locations for plants, with which renewable energy – e.g. from photovoltaics – can be generated and thus hydrogen produced in combination with electrolysers, are to be identified over the next two years. Scientific, technological, and economic aspects will be taken into account as well as environmental protection, climate change, and social components. For example, agricultural land and water resources that are essential for supplying the people in Africa must not be used.
The results of the "H2Atlas-Africa" project can be used in a variety of ways: as a guide for the construction of pilot plants as well as a roadmap for the development of a green hydrogen economy in sub-Saharan Africa, which will be used by politicians and potential investors. On the scientific side, a close exchange between researchers and students is planned, supplemented by workshops and graduate school programmes jointly organised by WASCAL, RWTH Aachen University, and Forschungszentrum Jülich.
Contact:
Dr. Solomon Nwabueze Agbo
Forschungszentrum Jülich, Corporate Development
Tel.: +49 (0)2461 61-1666
E-Mail: s.agbo@fz-juelich.de

Press contact:
Erhard Zeiss
Forschungszentrum Jülich, Corporate Communication
Tel.: +49 (0)2461 61-1841
E-Mail: e.zeiss@fz-juelich.de
Last Modified: 22.05.2022